Twelve-year-old Nobuko Kamei was living with her parents and older sister in Kobe after returning from where she had evacuated to as World War II raged on and drew near the end.
On June 5, 1945, an air raid would kill over 3,000 people in Kobe, a horrific experience that the girl would never forget. 
Now 89, Kamei spoke of her experiences from 77 years ago in public for the first time.
Her daughter's work gave her the opportunity.
"It's my mission (to tell what happened) for the sake of those who died in the war since I was able to survive," Kamei said.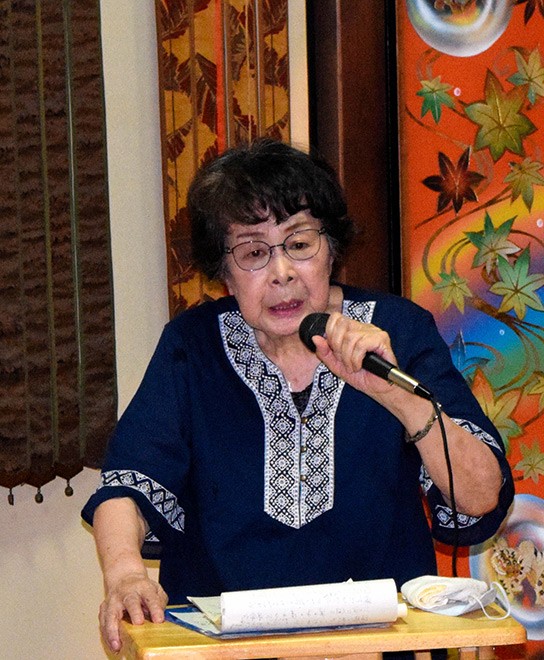 SEA OF FIRE
"Get away from here!" her father shouted to Kamei as the air raid began.
Her mother and sister prepared to evacuate to an air raid shelter, but she hid behind a shelf in her home and covered herself with a duvet, fearing that incendiary bombs might fall on the shelter.
After a while, the sounds of voices and footsteps running outside stopped.
She heard a loud noise and ran outside, only to witness a sea of fire and U.S. B-29 bombers flying overhead.
She ran toward the mountains.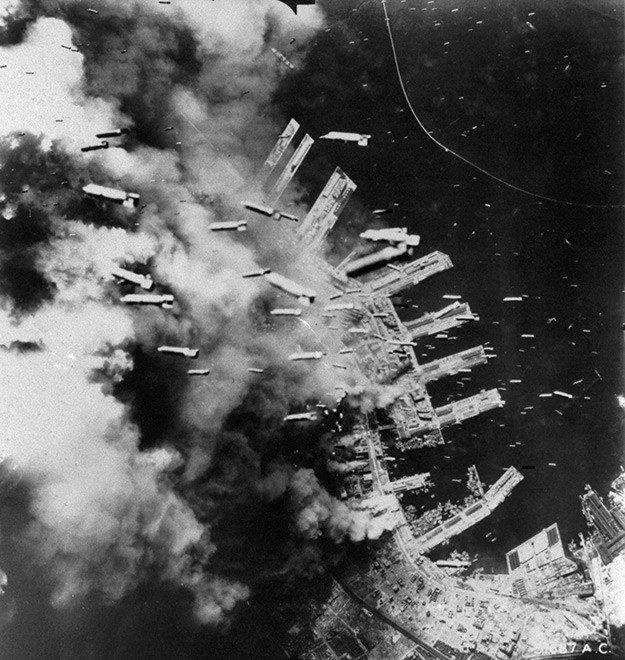 Just as she said she was about to give up trying to survive, she heard a voice.
"Nobu-chan, you must not die," a neighbor said to Kamei and held her hand.
Clinging tightly to his hand, she desperately ran through a shower of sparks.
The air raid shelter was full of people when she arrived.
She finally found her family in the shelter and hugged them.
The bombing raid ended, and Kamei saw that many who had been badly burned had been in the houses that had remained after the bombings.
"Water, water, please," they begged her. She put a wet towel to their lips.
She continued to aid them as much as she could, but they died one after another.
The day after the air raid, she saw the area was devastated by the bombings. Her house had also burned down.
Trucks carrying bodies headed for temples.
"I'm sorry for those who died," she said.
Kobe suffered three bombing attacks on March 17, May 11 and June 5 in 1945 that killed more than 7,000 people.
But the war continued on.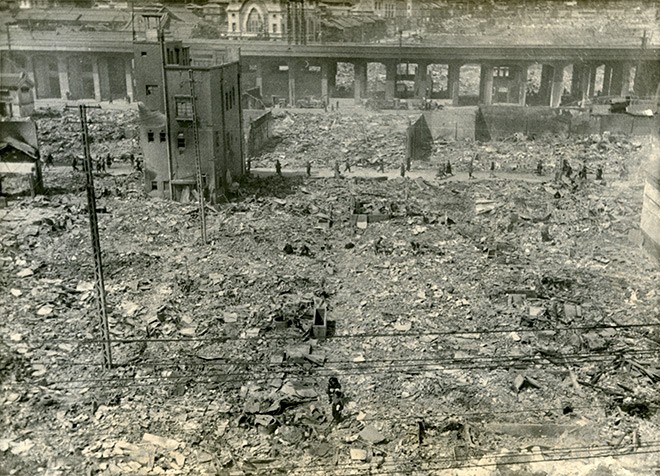 'WE WILL DIE TOGETHER'
There was not enough food. Her family made watery porridge from a small amount of rice they had obtained after visiting a farming village.
One day, Kamei developed a high fever and diarrhea. It was typhus.
She lay bedridden and could not move when the air raid alarms went off again.
Her mother, who was nursing her, said, "Nobu-chan, you don't have to run anymore. We will die together."
Under the scorching sun in August, however, her father pushed her in a wheeled cart he managed to obtain from somewhere to a large hospital.
On the way, her mother shouted "What?"
Kamei said she clearly remembers it.
She later found it was her mother reacting to a radio broadcast of the recording of Emperor Hirohito announcing the end of the war.
The hospital was full of injured people.
One day while she was in the hospital, a bed became available. She was delighted, thinking a patient returned home after getting better, but she saw the body of its former occupant being carried to the morgue and realized it was not.
It was the body of a woman who had been lying in the bed next to her's. The woman had always said to her, "Hang in there, hang in there." But the woman had gradually weakened and died.
"Why does she have to die here even though she tried so hard to stay alive?" Kamei said. "War is murder."
Such experiences are unforgettable for her.
Although Kamei thought that she must pass on what she experienced during the war to the next generation for the sake of the victims, she only told her family.
She said she tried to write a memoir but lost the will.
Her daughter was involved in managing an exhibition to think about war, and Kamei decided to speak in public about her story there.
"It was a great pleasure" to speak about her experiences, she said.
She wrapped up her speech at the exhibition saying, "No more killing people for the sake of peace. The whole world must think about Ukraine and the atomic bombings."