AOMORI--Inspired by the Aomori Nebuta Festival summer extravaganza, an event organized exclusively for cosplayers in cardboard costumes has become a winter fixture here.
The Danborian festival, first held in late 2018, has attracted people resembling characters of anime and video games from across Japan.
Common characters include "Sailor Moon" and "Super Mario," but others come dressed as packages for traditional sweets.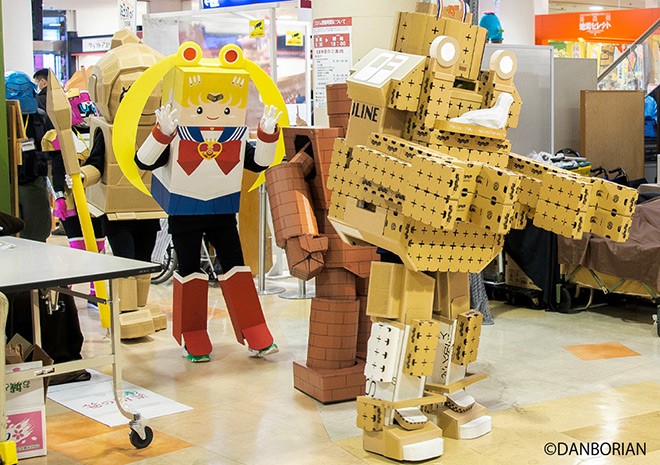 The quality varies greatly. Some costumes are just pieces of cardboard slapped together. Others are elaborately designed and painted.
There are no stages at the site for cosplaying performances. But attendees often break into cheer when a costume's parts move or a cardboard robot transforms.
In the casual atmosphere, cosplayers do as they like, including interacting with uncostumed visitors.
At the festival's climax, dozens of cosplayers march through the venue, creating a colorful and impressive scene.
Danborian is organized by Takahisa Mikami, 53, chairman of its steering committee, and Hiroyuki Takahashi, 49, the committee's vice chairman.
Asked why they started Danborian, they said they were stimulated by the Nebuta event, one of the three great festivals in the northeastern Tohoku region, and its huge paper lantern floats.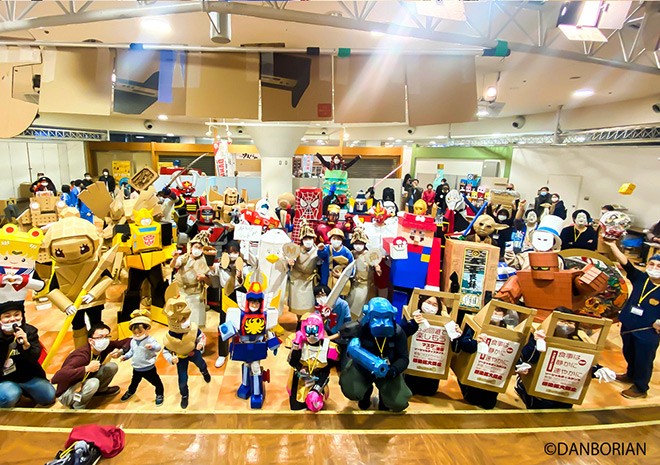 In summer 2017, Mikami and Takahashi started a crowdfunding campaign to build a small Ultraseven-designed float from the "Ultraman" TV series for the Aomori Nebuta Festival.
They surpassed their initial goal by receiving 4.7 million yen ($32,600) from across Japan. That success prompted the pair to decide to hold a separate event for avid hobbyists.
Seeing how the floats at the Nebuta festival are created by applying "washi" traditional paper to wires, Mikami and Takahashi believed people in Aomori have a knack for making objects with shape and volume.
They thought about what else could be made of paper and hit upon the idea of organizing a cardboard cosplay show.
They also took into account the embarrassment expressed by cosplayers when their faces and other body parts remain exposed at festivals. At Danborian, cardboard could be used to cover all these parts.
The use of cardboard could also help cosplayers slash costs for their costumes.
Mikami and Takahashi wanted everyone to be at ease and enjoy their cosplaying event.
The first Danborian ran in December 2018.
Although the organizers were initially worried about the turnout, 30 groups of cardboard cosplayers showed up from in and outside Aomori Prefecture.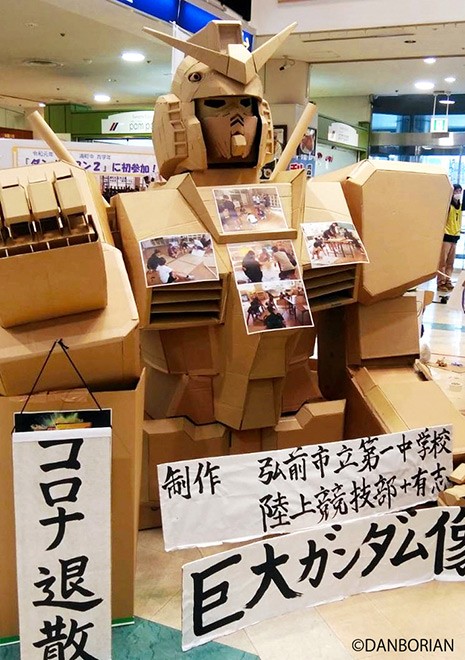 One participant told the organizers, "I have been waiting for such an event to emerge."
Danborian has since been organized every December.
There was a possibility that the third event would be canceled because of COVID-19, but Danborian was held with a limited visitor number.
A slogan has emerged in Aomori: "Nebuta for summer, Danborian for winter."
An even wider range of individuals have shown up for Danborian since its inauguration.
After attending the festival by chance, one child became determined to exhibit a costume the following year.
A high school art club began displaying cardboard costumes to showcase its members' daily efforts.
A major cardboard manufacturer is supporting Danborian by providing material for the cosplayers.
Plans to hold Danborian outside Aomori Prefecture or in overseas areas like Taiwan where cosplay is popular were floated before the pandemic.
Those plans were dropped, but Mikami and Takahashi are looking to expand into Tokyo while paying attention to the spread of the novel coronavirus.
They are also considering arranging events specifically for cosplay lovers, costume designers and other participants.
The organizers said they were "stunned" by the enthusiasm for the cardboard cosplay festival, and they have high expectations for the hidden potential of "the great power of cardboard."
The fifth Danborian is scheduled for Nov. 27 at the Aomori Tourist Information Center, ASPAM, in Aomori.