HIROSAKI, Aomori Prefecture--Mitsuzo Mitsuya and his four teammates, all in their 90s, aren't ready for retirement after breaking their own world records in two relay events.
They set records in the 4x100-meter and 4x400-meter races for men aged between 90 and 94 at the Aomori masters track and field championship held here on Sept. 19.
The five athletes, who reside in Aomori Prefecture, are setting their sights on competing in the age group for 95- to 99-year-olds someday.
"We will definitely stay alive and set an unprecedented record together," said Mitsuya, 91, who lives in Ajigasawa in the prefecture.
His teammates are Yuzo Kudo, 94, and Matashiro Tsuruga, 93, both from Goshogawara; Hiroo Tanaka, 91, from Aomori; and Nobuo Miura, 90, from Hirosaki.
They come from different backgrounds, including a sprinter who started running as a hobby after retirement and an amateur marathon runner.
The nonagenarians usually train where they live and get together to practice relay exchanges only twice before a meet. Still, they can pass the baton smoothly.
Tsuruga, Kudo, Miura and Tanaka won the 4x100-meter event in 1 minute and 33.52 seconds, improving the record set in 2021 by 10 seconds.
Miura, a sprinter who joined the squad earlier this year, helped improve the team's speed. Mitsuya ran the third leg last year.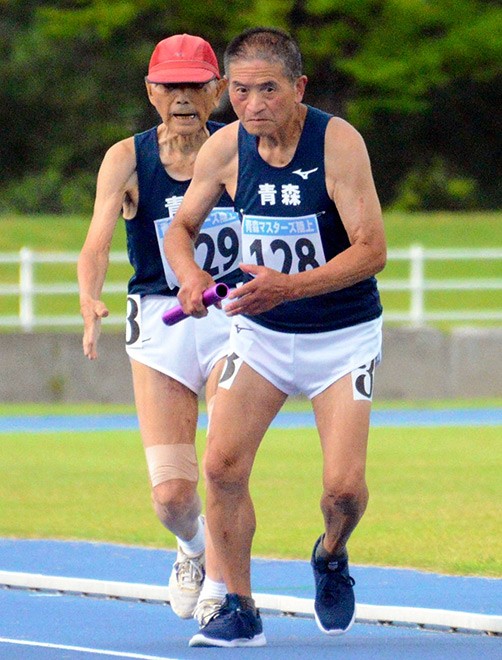 Tsuruga, Kudo, Mitsuya and Tanaka finished the 4x400-meter event in 9 minutes and 23.29 seconds, cutting 33 seconds off the record set last year, when the team competed with the same lineup.
Each of the foursome said they made sure that they went easy in the first half and came on strong in the second half to clinch new records.
"It's great. I made the best start of my life," the first runner Tsuruga said.
Miura said, "I did my very best. I can only say it was a miracle to set a new record."
Kudo modestly said, "It's just another day," but he was smiling and forming a circle with his hands.
Tanaka said he hopes the five can be role models for other seniors.
"It will be satisfying if we can inspire others to persevere, showing how we run," he said.