When Marina Fujiwara started showing off the elaborate "useless" inventions she made for fun, she did not expect to become a breakout internet star and amass a loyal following.
"I just make things I want to make," said Fujiwara, 29, who calls herself the president of Kabushiki Gaisha Muda (Useless Ltd.), stylized as Muda Ltd. "I really don't know why my works are highly regarded."
She extolled the virtues of uselessness in person at an exhibition called "Kabushiki Gaisha Muda Shibuya Shiten" (Useless Ltd.'s Shibuya branch exhibition) in a corner of Tokyo's Shibuya Center-gai street from August to September.
Fujiwara stood there sporting a stoic look while surrounded by some of her creations, of which she now has more than 200. When fans asked if she would pose for photos with them, Fujiwara smiled and flashed a peace sign.
"It is fascinating to see her churning out useless things like these when everything is supposed to be efficient nowadays," said a visitor with a smile.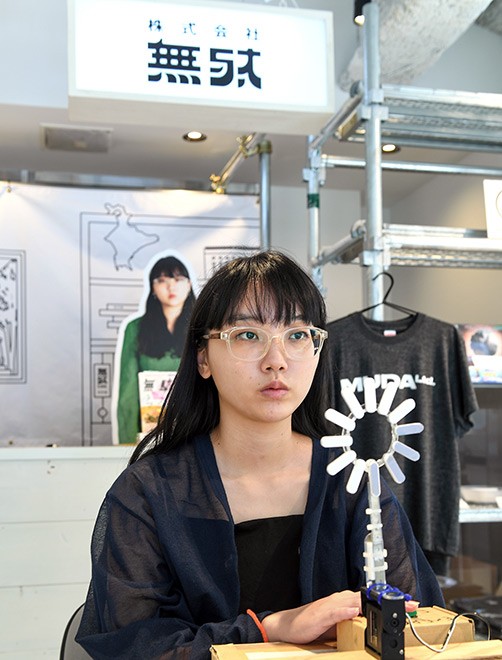 She was referring to Fujiwara's works on display, including the "loading circle machine to escape from Zoom," a simple tool that allows a person bored with an online drinking party to fake a frozen video connection.
"I made it because people told me they found it difficult to slip out of online drinking parties," Fujiwara said.
When the switch is pushed, the gadget pops up a model of the loading circle, which appears on the computer screen when the internet connection is poor, in front of the computer camera.
Visitors to the exhibition appeared irritated but intrigued by an enlarged version of Fujiwara's "earphone cable entangling machine," which looked like a giant cable reel.
"It's fun to imagine what it feels like when something becomes extra-large," she said.
A device that slaps the user in the face with a wad of bills seems to have been inspired by a Japanese saying that essentially means "make money talk."
While there is an air of fun about everything she does, Fujiwara's approach goes far beyond making novelty gadgets to entertain people. It has its own philosophy.
"When you find a stone on the roadside, you can touch it to see if it can be used as an interior decoration or as a paperweight, or you can refresh your mind by throwing it into a river," she said. "If you want to find usefulness in useless things, you need to have a tolerant mind and make use of their natural worthiness."
Her favorite phrase is: "Much more am I pleading for the abolition of the word 'use,' and for the freeing of the human spirit," which was said by U.S. chemist Abraham Flexner.
Fujiwara, a native of Yokohama, has always loved daydreaming and making things since she was a grade-schooler.
Eager to make people laugh, she enrolled in the Tokyo branch of Yoshimoto New Star Creation comedy academy after graduating from high school. She worked as a solo comedian but, despite her hard work, remained an unknown commodity.
Her agency, Yoshimoto Kogyo Co., suggested she present whatever she wanted to do on the YouTube video-sharing website. She launched a channel in 2013 called "Mudazukuri" (manufacturing useless things), an apparent pun on Japan's vaunted tradition of "monozukuri" (manufacturing).
When Fujiwara began posting videos to show how she experiments and makes her products, they quickly went viral and she shot to fame.
Her channel now boasts more than 100,000 subscribers, and her videos racked up more than 40 million hits on social media and other platforms. Her Twitter follower count has risen to about 300,000.
Fujiwara has become a popular figure in China, the United States and Europe. When she organized a solo exhibition of her works in Taiwan, more than 25,000 people turned up.
Fujiwara is also winning accolades. Last year, she was chosen as one of Forbes Japan's "30 Under 30," a list of 30 influential people under 30 years old selected by the Japanese edition of the U.S. business magazine.
This year, she received a special award from the president of the Junior Chamber International Japan when the association of young business leaders released its annual list of Outstanding Young Persons.
Fujiwara has parted ways with Yoshimoto Kogyo and now works as a freelancer.
She said she wants to challenge the way society thinks about utility and function, given that so many projects have been abandoned once screened for whether they were useful.
"Those who think useless things are useless just don't know how to make use of them," she said. "I want to create new value from useless things."