During the difficult times of the COVID-19 pandemic, a trio of singing and dancing rickshaw pullers in Tokyo's Asakusa district proved they were not just pretty faces.
The Tokyo Rickshaw group used its spare time, particularly during the anti-virus states of emergency, to build bonds with other hard-hit residents and businesses through cooperative projects in Taito Ward.
With tourism now on the rebound, the musical rickshaw pullers are seen as key ambassadors in promoting the culture and attractions of one of the most popular sightseeing spots in Japan.
The Tokyo Rickshaw trio performed at a music pub in Asakusa in front of 100 mostly female fans in their 20s to 50s in early October.
The audience held up penlights as Tokyo Rickshaw sang, waved folding fans and performed forward saltos and piggybacks on the stage.
Tokyo Rickshaw consists of leader Takuya Ishibashi, 30, from Shizuoka Prefecture, Kazunari Shiragami, 28, from Shiga Prefecture, and Yuichi Tai, 28, from Hyogo Prefecture.
The double-role unit was formed by rickshaw tour provider Tokyo Rickshaw in Asakusa in 2015, mainly to promote the area ahead of the 2020 Tokyo Olympics and Paralympics.
Its members have been replaced through auditions over the years.
The musical rickshaw drivers entered a 2018 campaign by a record company that helped artists who sold 2,020 CDs within six months make their major-label debuts. Tokyo Rickshaw hit that mark and sold more than 3,000 CDs that year.
Its first single was released in June 2019, followed by three tunes that all reached No. 1 in the "enka" and "kayo" traditional song category on the Oricon Inc. weekly hit charts.
But the novel coronavirus pandemic changed everything.
Organizers in spring 2020 decided to postpone the Tokyo Games. And after the first state of emergency for Tokyo was declared, sightseers disappeared from Asakusa while stores and pubs in shopping and entertainment zones suspended operations.
Tourist numbers in Taito Ward plummeted from 55.8 million in 2018 to 16.3 million in 2020, according to ward data.
The Tokyo Rickshaw company said its monthly ridership of 4,500 in 2019 tumbled to zero during the state of emergency, forcing it to suspend operations.
The musical trio also found it difficult to play live shows.
But the band deepened communications with fans by bringing their rickshaws to noted tourist destinations and sharing images and live performances through their smartphones.
It was a relationship of trust developed among people and businesses who were struggling in Asakusa.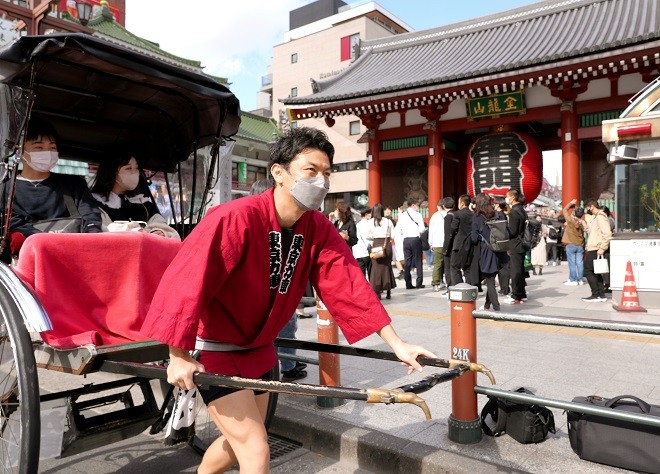 NICE GUYS
Asakusa Gold Sounds, a live music club that opened in 2017, is owned by a 52-year-old who calls himself Shu.
He said his early impression of Tokyo Rickshaw was biasedly based on their youthful appearance.
"I initially deemed them as mere pop idols," Shu said.
He grew quite fond of the group after his club nearly went out of business during a state of emergency when it refrained from organizing live shows and other events.
The Tokyo Rickshaw performers gave Shu a helping hand by soliciting donations through an online live performance. They also created and sold collaborative goods for the club and took part in other joint projects.
"They correctly remember our staffers' names and pay careful attention to patrons," Shu said. "They are nice guys."
Teruko Tominaga, 85, who runs the Towada "soba" noodle restaurant and chairs the association of female business managers in Asakusa, said she got to know Tokyo Rickshaw when the members asked if they could display posters at her eatery.
Tominaga not only said yes, but she also referred them to other store operators who would be OK with the posters.
She also supported an event featuring Tokyo Rickshaw along a shopping street.
"They only appeared cute at first," Tominaga said. "But they have developed guts through various efforts. With their increasing number of fans, they will help make Asakusa energetic again."
Tempura Akimitsu allowed Tokyo Rickshaw to shoot a promotional video within the restaurant. Fans now enjoy tempura at the "sacred place."
"I love their unaffected stance, nice personalities and sincere attitude toward singing," said Akimitsu Tanihara, 43, president of Tempura Akimitsu.
Hitoshi Takeda, 48, manager of Marubelldo, which sells celebrity photos, held an autograph session at his store in Asakusa and a live online concert featuring Tokyo Rickshaw.
"They are publicizing Asakusa for people nationwide, leading to interested individuals popping up here," Takeda said. "They are important for our local community."
Tokyo Rickshaw is now performing in live shows around 10 times a month.
"We want to do a solo live performance at the Asakusa Public Hall or other events to revitalize Asakusa," Ishibashi said. "The coronavirus-caused difficulties made us aware of how warm people in Asakusa are. I want to return the favor to them by holding events that will bring happiness to both shop operators and visitors."