Editor's note: In the Taste of Life series, cooking experts, chefs and others involved in the field of food introduce their special recipes intertwined with their paths in life.
* * *
In 2018, Joe-san., a cooking expert with more than 380,000 Twitter followers, began posting his recipes in earnest.
Around that time, he had become independent from his employer, a company that created recipes. The initial intention was to promote himself and hopefully gain orders through the tweets.
He spent days posting his recipes. One day in June 2019, he introduced a recipe for "mixed asparagus rice," a mixture of rice, chopped asparagus, butter and "mentsuyu" (seasoning sauce for noodles). It received nearly 200,000 likes and became his first recipe to go viral. The number of his followers in the thousands began to grow steadily.
Looking back, he thinks that posting recipes diligently prompted people who came to read one of his posts to make the rounds of his other tweets and decide to follow him. A month later, a major publishing company approached him to write a recipe book.
Analysis at that time showed that his main followers were women in their 30s and 40s, but there were many men in their 20s as well. He came up with more udon and ramen noodle recipes targeting young men.
He received direct responses through social media such as, "I tried cooking myself" and "I showed the recipe to my family."
Gradually, Twitter changed from being a place to promote himself to one where he posted for the users.
"Instead of urging people to try what I think tastes best, I want to be useful and offer ideas that will make cooking easier," he says.
Joe-san. feels that young men of today belong to "a generation that is open to cooking." For that reason, he hopes they will "get used to cooking while they are at university or are recent graduates."
He wants them to think that when they find partners, it is natural to cook in the kitchen together.
"I think my simple recipes can back that up," he says.
The "three-treasure dish featuring pickled Chinese cabbage," cooked with three ingredients, was one of his recipes that went viral. The use of fermented food adds depth to the flavor. While the microwave oven was used when he introduced the recipe on Twitter, he uses a frying pan this time.
* * *
Joe-san.: Born in Yokohama in 1988, Joe-san. struck out on his own as a cooking expert after working at a food planning company. He has written books including "Mendo na Koto Shinai Umasa Kiwami Reshipi" (Fuss-free recipes that are the ultimate in umami).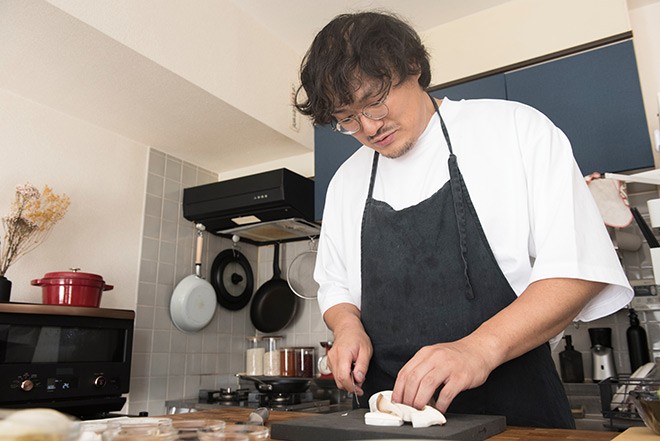 BASIC COOKING METHOD
Main Ingredients (Serves two)
2 eryngii mushrooms, 150 grams pork belly (butabara) slices, 200 grams lightly pickled Chinese cabbage (hakusai no asazuke), 2 tsp sesame oil, Seasoning A (1 tsp chicken soup stock, 1 tsp soy sauce, 1 Tbsp sake, 2 tsp sweet mirin sake), 1 Tbsp katakuriko starch, 2 Tbsp water
1. Finely slice eryngii lengthwise. Cut length in half. Cut pickled Chinese cabbage and pork belly slices into bite-size pieces. Mix Seasoning A.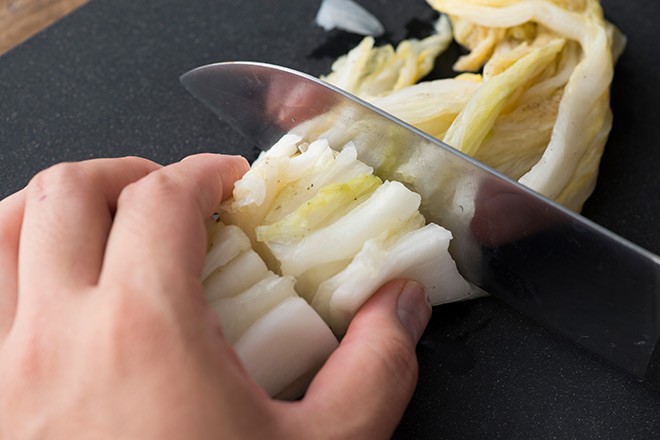 2. Pour sesame oil in frying pan, add pork belly slices and stir-fry.
3. When meat has changed color, add pickle and eryngii and cook further.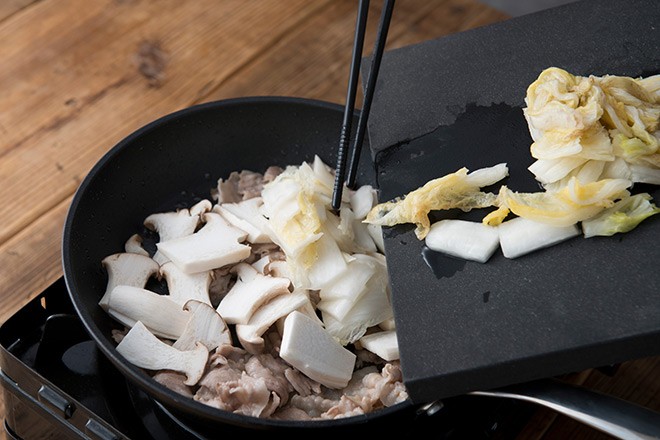 4. When ingredients are mixed, add blended Seasoning A and mix while stir-frying.
5. Mix katakuriko starch with water, add to pan and cook evenly.
About 400 kcal and 2.5 grams salt per portion
(Nutrient calculation by the Nutrition Clinic of Kagawa Nutrition University)
Lightly pickled Chinese cabbage can be bought in stores. Although those flavored with yuzu and other ingredients are also sold, choose a simple type without extra savor.
When stir-frying the meat and vegetables, do so on medium heat.
* * *
From The Asahi Shimbun's Jinsei Reshipi (Life Recipe) column