Educators are raising concerns that while the number of international students is on the rise, these students do not have the same access to language-learning opportunities depending on where they live in Japan.
Places where foreign students are concentrated end up with better resources and support, while other areas run short.
"There is a huge gap between areas with regard to support (for students who need Japanese language education)," said Iki Tanaka, head of YSC Global School, a private education support program. "I believe that half the students who need to be taught Japanese live in areas where there is little language-learning support."
YSC Global School, operated by the Youth Support Center nonprofit organization based in Fussa, western Tokyo, provides Japanese language education and learning support to students from foreign countries.
Lack of support for these students is partly due to lack of awareness of their needs on the part of local authorities, Tanaka said.
However, she points out that a shortage of organizations and people to support these students has recently become a more serious problem.
"Partly due to Japanese language teachers getting old, people who can support students who need Japanese language education are in short supply," Tanaka said.
"Traveling used to be a hurdle for giving lessons to students in non-urban areas. But I believe that online lessons are useful to some extent to support students who are scattered over large areas."
YSC has provided online Japanese language lessons to such students since 2016, in addition to face-to-face classes.
Its 235 students across Japan receive such lessons according to their skill levels.
In recent years, the school has also helped municipalities set up their own Japanese language classes.
The school started an online Japanese initiative in 2020 in Mie Prefecture to provide lessons for areas with fewer foreign students.
It has also provided online Japanese language lessons to elementary school students in Nagoya in cooperation with the city's education board since November.
YOKOHAMA OFFERS 'INTERNATIONAL CLASS'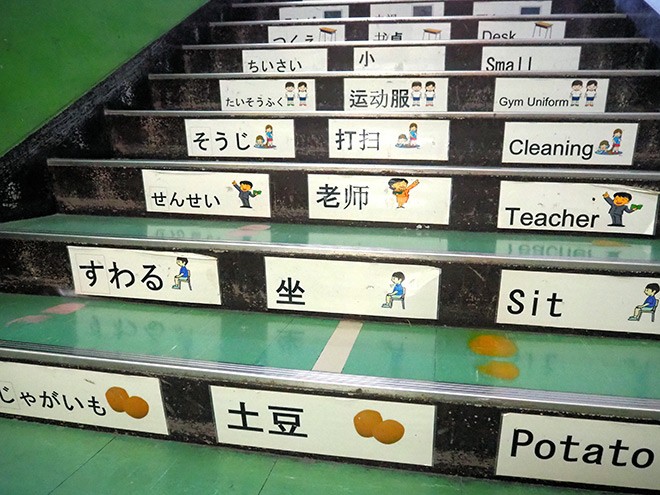 According to a study released by the education ministry in October, the number of students who need Japanese language lessons has ballooned over the past decade.
The number of such students in public schools--including elementary schools, junior high schools and high schools--reached 58,307 across the country in fiscal 2021, around 1.7 times more than it was a decade earlier.
According to ministry officials, local officials in areas that have traditionally had many foreign national residents, such as Aichi, Shizuoka, and Gunma prefectures, have made advanced arrangements for Japanese language-learning classes because they know support is needed.
Minami-Yoshida Elementary School in Yokohama, where more than half of its 636 students have roots in foreign countries, shows how good these classes can be with enough support.
"Let's say 'Please come' at the end of the invitation," a teacher told eight third-graders during an "international class" at the school in mid-October.
The teacher was giving a Japanese writing lesson to the students who were preparing invitations in Japanese for the school's sports day for their parents.
International classes are specially designed for students with roots in foreign countries, including foreign nationals and those whose parents are from overseas.
In Yokohama, elementary or junior high schools with five or more students who need to be taught Japanese are required to provide international classes.
This means students from foreign countries living in Yokohama are generally better looked after than in other municipalities across Japan.
More than a third of all elementary or junior high schools in Yokohama, or 194 schools, currently provide international classes.
At Minami-Yoshida Elementary School, one teacher is responsible for each international class, just like a homeroom teacher, and they formulate special lessons for the students, who are taught in a small group.
Students attend an international class only on subjects where they need support. They study other subjects in their homeroom class with other students.
The school provides seven international classes, catering to 153 students learning Japanese.
A sixth-grade student from the Philippines took the international class after enrolling at the school.
"I could take time to learn what I found difficult, so lessons were easy to understand," she said. "Expressing my opinion was also easier since we were a small group."
Partly because Yokohama's famed China Town is close by, the school has traditionally had many Chinese students.
The school has accumulated a lot of institutional knowledge and experience in supporting students with roots in foreign countries.
"In addition to the intentional classes, we provide various support including Japanese language lessons by Japanese language teachers or after-class study support," said Masato Kaneko, the school's principal. "Volunteers also regularly support students in their mother tongue at our school, so various languages are heard here."
Currently, the school has students with roots in 22 foreign countries or regions.
Some of its students are from the Islamic community, and teachers know they must be considerate of students' religions and diets, not just their languages.
"When (students with roots in foreign countries) enter our school, we provide interpreters for their parents to learn their children's needs regarding school lunch or prayer, among other things," Kaneko said.
The school allows students who want to pray to do so in an unused classroom before lunchtime.
Students who cannot eat certain foods, such as pork, bring their own lunch instead of eating the school lunch.
"Other students just accept each other's differences with no problem," Kaneko said.