Editor's note: In the Taste of Life series, cooking experts, chefs and others involved in the field of food introduce their special recipes intertwined with their paths in life.
* * *
Mamoru Kataoka, the owner and chef of Ristorante Al Porto in Tokyo's Nishi-Azabu district, is one of the early pioneers of authentic Italian cuisine in Japan.
Yet becoming a chef was not his initial aspiration.
Kataoka twice failed to get into an art university, where he hoped to train as an industrial designer. While he was studying to make another try, he was offered an opportunity to cook.
A diplomat whom he knew thanks to his mother, a housekeeper, was to become the consul general in Milan and asked Kataoka to accompany him as a cook.
Kataoka trained at the Japanese cuisine restaurant Tsukiji Tamura for just three months before heading to Italy.
Besides cooking at the diplomat's official residence in Milan, he tried out the food at various restaurants and took training courses.
Al Porto, a seafood restaurant that was later to become the namesake of Kataoka's restaurant, was a favorite of the consul general, who was a food connoisseur.
"The marinated seafood offered there was truly amazing," Kataoka recalls. Each marinade was made of one type of seafood, such as octopus.
After returning to Japan, he was asked to become the head chef of an Italian restaurant owned by a vocalist in the late 1970s.
Japanese chefs who had trained in Italy were beginning to make their mark around that time.
Restaurants offering authentic Italian dishes were still scarce, and Kataoka worked hard hoping people would taste and get to know Italian cuisine better in Japan.
The "seafood served in a salad style" has been his signature dish since then.
Remembering the marinade dish he had in Milan, he chose to use a variety of seafood in the salad.
"Since the flavor changes with time, mix it right before you eat it," says Kataoka.
It is easier to prepare at home when the ingredients are limited to squid and octopus or just shrimp.
In Italy, it is mainstream to offer a limited number of dishes such as an appetizer, pasta, a main dish and a dessert, while serving large portions of each.
But Kataoka aspired to serve Italian cuisine in the style of "kaiseki ryori," or a traditional multi-course Japanese meal.
He reduced the portions but increased the number of appetizers. The exquisitely presented course dishes were well-received.
"After all, I had aspired to become an industrial designer. I design on the plate," says Kataoka.
* * *
Mamoru Kataoka: Born in Tokyo in 1948, Kataoka went to Milan, Italy, in 1968 as a cook for the consul general. After returning to Japan in 1973 and training at a restaurant offering Western-influenced cooking, he became the head chef of an Italian restaurant. He opened Ristorante Al Porto in 1983.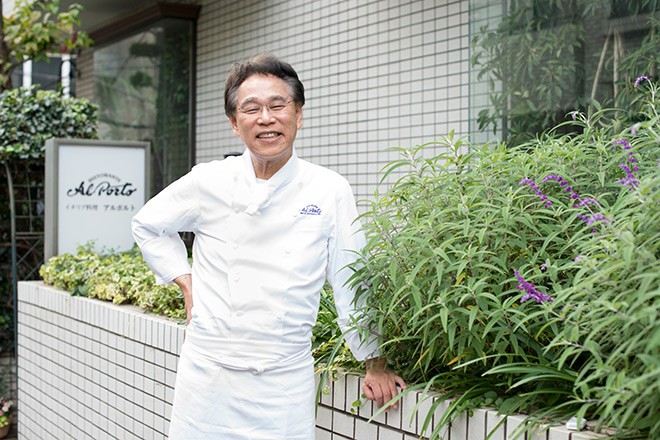 BASIC COOKING METHOD
Main Ingredients (Serves four)
1 spear squid (yari-ika), 4 mussels (muru-gai), 8 asari clams, 4 shiba-ebi type shrimps, 4 small kuruma-ebi type shrimps, 30 grams octopus legs, 1/2 cup each of white wine and water, some red leaf lettuce (sunny lettuce), a bit of parsley, some finely chopped thin green onion (asatsuki) or chive, dressing (1 Tbsp olive oil, 1 tsp lemon juice, dash of each of balsamic vinegar, salt, pepper, chopped parsley), some French dressing
1. Gut squid, devein and shell the two types of shrimp. Bring water to a boil in a pot, add salt and then the squid. Add two types of shrimp halfway through and cook until they change color. Remove and cool. Slice body of squid in rounds, cut legs in half.
2. Cook octopus until soft, then cool and cut into pieces. Place mussels and clams in two separate pots, add half of the water and white wine to each and place on high heat. Steam until shells open. Cool.
3. Mix ingredients for dressing in bowl
4. Put all seafood, bit of parsley in another bowl. Add (3) and French dressing and mix. Season with salt and pepper.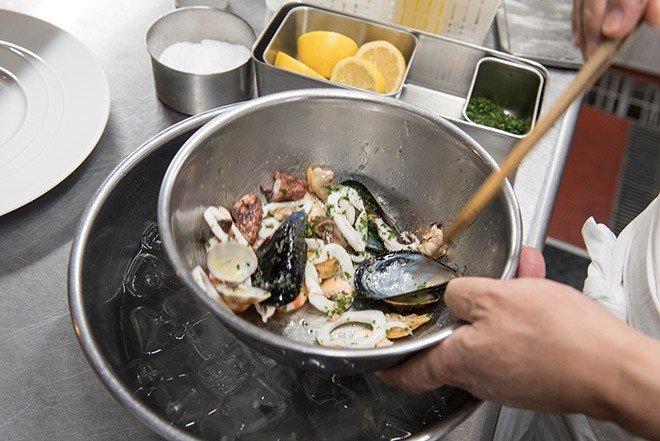 5. Spread lettuce on plate and top with (4). Garnish with asatsuki and others.
About 120 kcal and 1 gram salt per portion
(Nutrient calculation by the Nutrition Clinic of Kagawa Nutrition University)
* * *
From The Asahi Shimbun's Jinsei Reshipi (Life Recipe) column