NAGOYA--Nancy Ukai is trying to put a face and a life story to a Japanese-American who she says was wrongfully shot and killed at a wartime internment camp in the dusty Utah desert.
Internee James Hatsuaki Wakasa, 63, was gunned down by a sentry on April 11, 1943, at the Topaz Relocation Center where Japanese-Americans were incarcerated during World War II.
Ukai, 68, a third-generation Japanese-American living in California, is visiting Japan to trace Wakasa's past and look for connections in his birthplace.
"I would like to meet descendants of Wakasa to let them know that many people in the United States care about his life and death," she said before she arrived in Japan last week. "I would like to ask people in Japan to fold paper flowers (for use at a memorial service)."
The Wakasa Memorial Committee, set up by Japanese-Americans, plans to hold ceremonies in San Francisco, Topaz and elsewhere in April to mark the 80th anniversary of the tragedy.
But little information is available on Wakasa's life. He was not married and had no relatives in the United States. No photo portrait remains of him, either.
DISTRUST OF AUTHORITIES' TAKE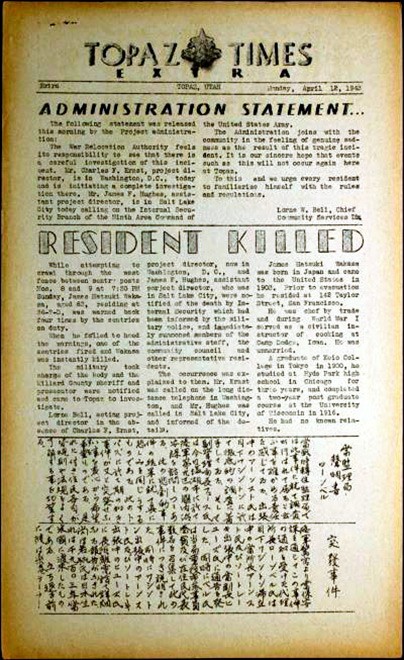 A former reporter for the Tokyo bureau of a U.S. weekly magazine, Ukai remembers what her mother told her one night when she was around 10.
"They didn't have to kill Mr. Wakasa," she quoted her mother as saying in a "loud, angry voice."
Ukai's relatives, including her parents and grandparents, were also interned at the Topaz Relocation Center.
Wakasa was shot and killed just inside a barbed wire fence that surrounded the camp, according to an article in an extra edition of the Topaz Times, a camp newspaper, published the following day.
"While attempting to crawl through the west fence ..., Wakasa ... was warned back four times by the sentries on duty," the article said. "When he failed to heed the warnings, one of the sentries fired and Wakasa was instantly killed."
In 2014, Ukai saw a draft panel display for the Topaz Museum on the enforced internment, which was under construction, while helping raise funds to build the facility.
The display contained only a curt description of the death of Wakasa. Ukai felt a sense of distrust. Her mother's words came back to her mind, where they had long remained stuck.
Ukai began looking up records on Wakasa in the U.S. National Archives and elsewhere.
Her attention was drawn to internal documents of the authorities and a sketch map of the killing site.
They show Wakasa was shot in the chest with a rifle by a young soldier stationed on a guard tower inside the barbed wire fence. He was found lying face up and parallel to the fence, which contradicts the camp authorities' statement that Wakasa was attempting to crawl through the fence.
Ukai also learned that internees of the time said Wakasa had a dog and always took him for a stroll near the fence. That led Ukai to believe that Wakasa was innocent.
A funeral was held for him eight days after he was fatally shot. People made floral wreaths of folded paper because no natural flowers were available in the desert.
Two thousand residents attended the funeral. Some made a memorial monument of big rocks and cement, but the authorities ordered it to be torn down.
Ukai in 2020 published these and other findings on a website on the history of Japanese-Americans that she administers.
Archaeologists who saw the article visited the internment camp site, where they discovered a monument partially outcropping near the spot where Wakasa fell.
The monument has since been moved onto the grounds of the Topaz Museum.
"Japanese-Americans had buried the monument (instead of destroying it)," Ukai said. "I thank the brave ancestors who left us this precious evidence of their resistance. It is a duty for Japanese-Americans like myself to remember the loss of Wakasa's life."
LIMITED INFO IN U.S. RECORDS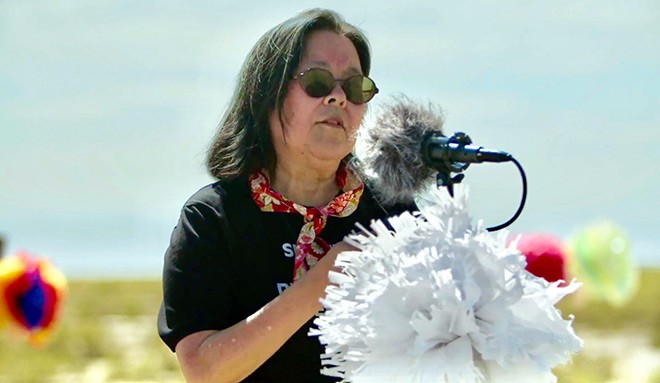 As for what information is available on Wakasa, a 1942 document of the U.S. authorities says he was born in Takahama, Ishikawa Prefecture, on Feb. 24, 1880. The community in Noto Peninsula is now part of the town of Shika.
The document says that he studied economics and commerce at "Keio college" in Tokyo before he came to the United States in 1903. It says his father's name is Ginza and his mother's is Omo, although the names could have been misspelled.
Another U.S. document says Wakasa's mother lived in "Otaru, Japan." The port city of the same name in Hokkaido had links to the Noto Peninsula through the Kitamae-bune merchant ships, which had ports of call in both localities.
Once in the United States, Wakasa hopped from one major city to another, including Chicago and New York, before moving, in his 50s, to the West Coast, records show. He worked as a cook and a salesman in San Francisco and elsewhere.
He was relocated from a temporary West Coast internment camp to Topaz in October 1942 after Japan opened the war on the United States.
Ukai, who lived in Japan for 14 years after graduating from a U.S. university, asked an acquaintance from Nagoya in 2021 to conduct research in Japan on his identity and background.
However, inquiries with the Shika town government, Keio University and other institutions turned up no corresponding names that would have substantiated the records in the U.S. documents.
Wakasa's name was not found, either, in passport issuance records. No clues have so far been found.
A Japanese-language article in the camp newspaper that reported on the shooting printed Wakasa's family name in kanji, but the kanji spelling for Hatsuaki remains unknown, Ukai said.
The enforced incarceration of Japanese-Americans was instituted by an executive order signed by U.S. President Franklin Roosevelt on Feb. 19, 1942, following the Japanese attack on Pearl Harbor.
Some 120,000 Japanese-Americans were driven from their homes as "alien enemies" and forced to live in 10 internment camps set up across seven U.S. states.
Washington apologized for the forcible internment in 1988 and paid $20,000 (2.7 million yen) to each survivor in reparations.