ETAJIMA, Hiroshima Prefecture—At night, an enormous work ship looks like a glowing amusement park floating on the Seto Inland Sea off the coast of this city.
The ship, Blue Wind, is actually one of the world's largest wind turbine installation vessels, and it will serve as a platform for offshore wind farm construction projects around Japan.
Blue Wind is 142 meters long, 50 meters wide and boasts a gross tonnage of 28,000. Its crane has a maximum lifting capacity of 2,500 tons, one of the most powerful in the world.
Completed last autumn, the work ship is owned by Tokyo-based general contractor Shimizu Corp.
Construction costs totaled about 50 billion yen ($367 million), more than enough to build a skyscraper, an industry source said.
Blue Wind left a port in Aioi, Hyogo Prefecture, and anchored off the coast of Hiroshima Prefecture after going through a series of tests.
According to the Tokyo branch of Osaka-based Fukada Salvage & Marine Works Co., which conducts training programs for crew members, Blue Wind can accommodate up to about 130 people.
One day in mid-February, about 80 crew members and workers were on the vessel, which features living quarters, a large dining hall and even a fitness gym.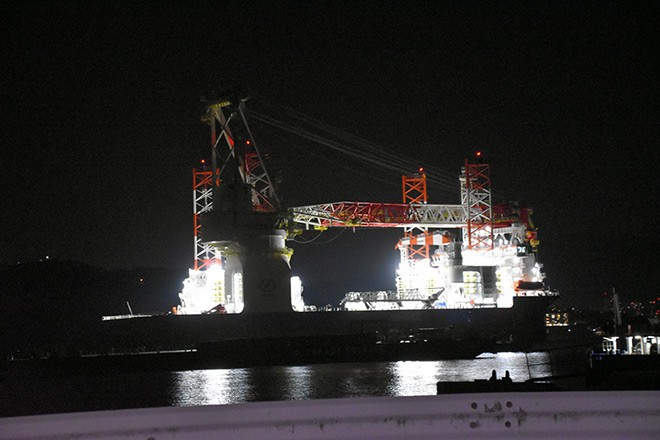 Prime Minister Fumio Kishida's administration has been promoting offshore wind farms as the ace in the hole to expand renewable energy use.
The government is recruiting offshore wind power projects in some sea areas of Japan. An Akita-based joint venture started commercial operations of Japan's first large-scale offshore wind farm off the coast of Akita Prefecture in December.
Japan has set an ambitious goal of developing offshore wind farms capable of generating up to 45 gigawatts, equivalent to the amount of electricity produced by 45 nuclear reactors, by 2040.
And the sole purpose of Blue Wind is to build offshore wind power generation facilities.
The vessel can operate in depths ranging from 10 to 65 meters.
Blue Wind lowers four legs onto the seabed to stabilize itself. It can lift itself up to 30 meters above the sea surface to continue work in rough waters.
The onboard crane can reach as high as about 200 meters to install large wind turbines and work on other tasks.
In a demonstration for media representatives on Feb. 14, Blue Wind extended its legs onto the seabed and lifted itself about 4 meters above the water, revealing its massive screw propellers.
According to Shimizu, crew members are receiving training in crane operations and other skills before Blue Wind sets sail from the waters off Etajima to the Hokuriku region.
Its first project, scheduled to start in April, is to build three windmills off the coast of Nyuzen, Toyama Prefecture.
It will then work on the construction of windmills for a huge offshore wind farm in Ishikari Bay in Hokkaido.
"The offshore wind farm construction market is worth more than 5 trillion yen. We aim to win the top market share in terms of domestic orders," said Hideo Imamura, senior manager of Shimizu's Corporate Communications Department. "The ship can also sail on its own, so we intend to receive orders for projects outside the country."