TOKONAME, Aichi Prefecture--Chubu Airport, which had canceled all overseas flights during the height of the COVID-19 pandemic, expects its weekly international flight number to rebound to nearly 150 in late May.
Its comeback will likely gather steam now that the government has downgraded COVID-19 to Category 5--the same level as seasonal influenza--under the infectious disease prevention law.
In May, five carriers restarted flights at Chubu Airport for Beijing and other Chinese destinations.
China Eastern Airlines, one of the carriers, on May 18 began linking Chubu Airport and Shanghai twice a week.
Although the route once had up to 28 flights per week, the connection was severed in March 2020 because of the novel coronavirus.
"It (Chubu Airport) sits between Tokyo and Osaka, providing easy accessibility," said a sales representative of China Eastern Airlines' Nagoya branch. "More inbound tourists are expected to visit there from now, too. We are paying careful attention on whether the flight number can recover to the pre-pandemic level."

Chubu Airport logged a record high 486 international flights weekly in January 2020. But the figure plummeted to zero during the April-June period in 2020.
The airport's total passenger number for both domestic and international flights fell to a record low of 2 million in fiscal 2020, compared with its peak of 12.6 million in fiscal 2019.
NEW ROUTES OPENED
As virus-related restrictions were eased, the flight number at Chubu Airport gradually rose.
The figure has shot up since March this year to 139 flights per week as of May 1, a sixfold year-on-year increase. The airport is planning to operate 149 flights weekly by the end of May.
New routes have also been added.
Budget carrier Peach Aviation introduced its Taipei route in March, while Batik Air Malaysia has opened flights for Kuala Lumpur via Taipei.
Domestically, Oriental Air Bridge in March started offering flights for Miyazaki and Akita prefectures.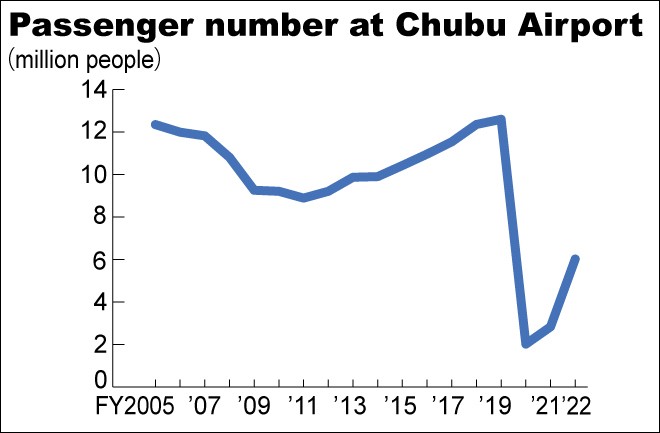 Fuji Dream Airlines (FDA), headquartered in Shizuoka and partly operationally based at Aichi Prefecture-run Nagoya Airport, opened a route for Kochi Prefecture.
"We expect international flight passengers to transfer there (at Chubu Airport) and head for the Shikoku region" in western Japan, said an FDA public relations official. "We are looking to lure a growing number of foreign visitors from now."
A representative of Chubu Airport's operator, Central Japan International Airport Co., said there is still room to embrace even more passengers.
"Our flight number remains at less than one-third that for the peak period," the official said.
The representative said the company's labor shortage for ground-handling operations, such as directing traffic, is a nationwide challenge.
"The issue may pose a major hurdle in increasing our flight number," the official said. "We are enhancing our recruitment support, such as organizing corporate introductory sessions involving multiple employers."