Japan is seeking to cast its economic influence in a small group of islands off the western coast of Indonesia because of its strategic location. 
A Japanese government source said the thinking is to turn a fishing port on one of the Natuna islands into "a mini Toyosu fish market," the facility located in Tokyo that took over operations from the Tsukiji fish market in 2018.
Even residents of the islands are surprised at the proposals for economic development assistance that are pouring in from a number of major nations such as Japan.  
The Natuna islands lie on the southern edge of the South China Sea, sandwiched between the Malay Peninsula and Kalimantan in Borneo.
One example of the assistance being provided was detailed by Muhammad Ropindra, 36, who is in charge of the largest fishing port on Natuna Besar located in Selat Lampa on the southern edge of the island.
"There are plans to convert this fishing port into one with the most advanced facilities, such as freezing and processing plants, through assistance from Japan," he said.
The project when completed would be the first on the island created through foreign assistance.
In 2018, the same year that the Toyosu market started operations, the Japan International Cooperation Agency signed a contract with the Indonesian government to provide assistance to improve fishing facilities.
According to an Indonesian government source, as much as about $30 million (about 4 billion yen) would be the total cost.
But the project is aimed at not only supporting Indonesia's economic development. 
One Japanese government source said, "This is a project that obviously has China's maritime advances in mind."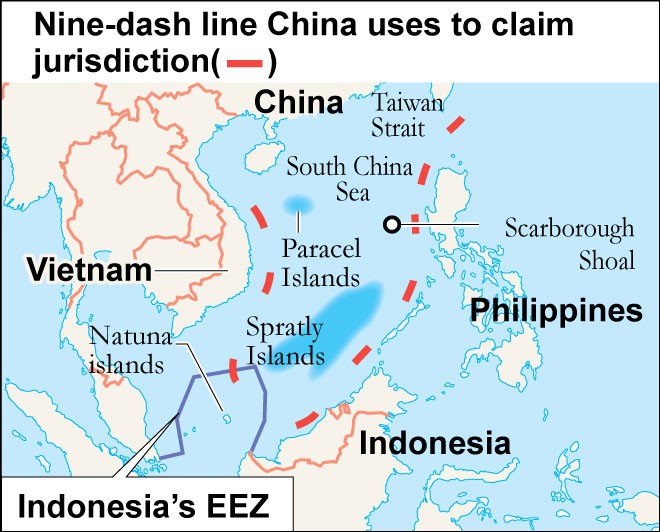 Indonesia's Exclusive Economic Zone (EEZ) extending out of the Natuna islands overlaps with China's nine-dash line that Beijing uses to claim jurisdiction in the South China Sea.
In 2017, the Indonesian government named the waters off the Natuna islands the North Natuna Sea, a move that may have provoked Beijing into increasing the number of Chinese vessels traversing there.
Despite such disputes, China is also Indonesia's largest trade partner, with a record of about $130 billion traded in 2022.
A high-ranking official of the Indonesian maritime security said, "We have been told by the central government, 'Do not further heighten tensions with China.'"
At the same time, the Indonesian government also wants to use the expansion of the fishing port on Natuna Besar as a catalyst to attract more investment.
The belief is that activating the economy will lead to an increase in population, which, in turn, would bolster the government's claims for interests in the surrounding waters.
Japan is not the only nation providing assistance.
The United States has planned a training program in small business management targeting local fishermen. An Indonesian local government official also said that South Korea was considering constructing a marine life research institute.
Japan is also intensifying engagement with the entire Southeast Asian region.
In March, a national security hotline was established with ASEAN. In the same month, a meeting of high-ranking officials was held at which Toshiro Ino, the senior vice defense minister, said, "China's more active maritime advances are greatly changing the power balance."
(This article was written by Naoko Handa in the Natuna islands and Nobuhiko Tajima in Tokyo. Rizki Akbar Hasan contributed to this story.)