Whinnying… in the palm of a girl sugar cube
--Slobodan Pupovac (Zagreb, Croatia)
* * *
apples
sugarcoated
stock trading
--Rosemarie Schuldes (Mattsee, Austria)
* * *
Aomori apples at the airport
the gravity of every
departure
--Patrick Sweeney (Misawa, Aomori)
* * *
dusty trail…
steam rises from fresh
horse apples
--Stephen J. DeGuire (Los Angeles, California)
* * *
ripe figs, crisp apples
long summer nights
recall you and I
--C.X. Turner (Birmingham, England)
* * *
watermelon heart
bright red square on a knife's tip
new love's offering
--Noga Shemer (Storrs, Connecticut)
* * *
blooming cosmos
enjoying a few
bites of chocolate
--Orrin Prejean (Dallas, Texas)
* * *
filled birdbath
sparrows chitter-chatter
shoulder to shoulder
--Al Gallia (Lafayette, Louisiana)
* * *
sipping tea
two old friends
rose a' sharon
--Terrie Jacks (Ballwin, Missouri)
* * *
late autumn
sitting in a lawn chair
next to mom
--Richard Bailly (Fargo, North Dakota)
------------------------------
FROM THE NOTEBOOK
------------------------------
Hot, humid night...
my neighborhood belongs
to fox and skunk
--Carl Brennan (North Syracuse , New York)
The haikuist inhaled the night air. Earlier this summer, Jennifer Gurney shared a scene from her everyday life in Broomfield, Colorado. Writing from Victoria, Texas, Randall Herman heard the approach of a graceful spotted deer native to Japan.
a deer and her fawn
stroll into my backyard
while I hang the wash
* * *
sika deer...
leaves rustle from
the north
Sheila Weaver and a friend watched as some of her garden flowers "went down the hatch" in Gibsons, British Columbia.
less than a day
for these daylily flowers
"But the fawn's spots are so cute!"
T.D. Ginting's double entendre implied he'd bite in Medan, North Sumatra.
ice cream rose
better than the flower--
time to (ch)eat
Eta Grubesic observed an inevitable scene take place in Bukovac, Serbia. Vladislav Hristov kept driving down the road in Plovdiv, Bulgaria.
the fragrant meadow
confused butterfly--
easy prey
* * *
hot highway
a lizard loses
its tail
Kiyoshi Fukuzawa wondered who delivered a bunch of sweet-smelling, pretty purple flowers.
Lavender
on the roadside
was it the gift of the wind?
Morning glories, hibiscus and the rose of Sharon (a favorite of Matsuo Basho's horse) are now in full bloom on their soaring stems. Amoolya Kamalnath spotted a climber in the jungles of Nagarahole in Karnataka, India.
a red flower
tall flames entwine between
the forest vines
An elegant climbing vine serving as a backdrop in her garden, Liz Gibbs lay back in Calgary, Alberta, and likely listened to a recording of the Canadian soprano Teresa Stratas. Dionysus, the Greek god of wine, poetry and theatre, was often depicted in literature and art as being wreathed in ivy.
soft sound of opera
my ivy plant trails
towards the soprano
Writing from Sofia, Bulgaria, Tsanka Shishkova dreamed of relaxing in Santorini, Greece: sand lily... an Aegean island with white summer houses
Suraj Nanu may have been wearing a billowing silk saree by the Arabian Sea near Kerala, India.
the shape of me
in the vagaries of wind
ocean summer
Jerome Berglund reconciled in Minneapolis, Minnesota.
make my
peace with it
small plates
Francoise Maurice wore lightweight cotton cloth to celebrate her wedding anniversary in Draguignan, France: A muslin dress fluttering in the wind -- the song of the cicadas
Satoru Kanematsu said he hopes to vacation on the island of Guam one more time.
Sunglasses--
mine a bit darker
than my wife's
While on a tour of Kuala Lumpur, Malaysia, Ashoka Weerakkody's group approached so close to a tall skyscraper it was difficult to see its entirety. Instead, he stared at a tourist wearing a stylish pair of dark glasses who was looking up to the zenith. Teiichi Suzuki visited Osaka Tennoji Zoo.
On her sunglasses
in front of Twin Towers
the twin towers
* * *
A towering cloud
spreading in the small eyes
of the elephant
Maria Cezza's sentimentality was shaded with dark thoughts in Maglie, a town located at the heel of boot-shaped Italy.
a nostalgia
the shadow of the mountain
obscures the flowers
Trying to escape from an urban heat island, Marshall Hryciuk ducked into a soothing underground train tunnel. In response to a prompt given in a previous Asahi Haikuist Network column, he offered two lines to form a traditional linked verse (haikai no renga) pattern, noting "it's not every day a poet gets to link with a hokku of Basho's." Suzuki wrote three lines when he resurfaced at Osaka-Umeda Station after riding underground on the Midosuji Line. Tzetzka Ilieva passed a long, hot summer in Marietta, Georgia.
koto notes
down a Toronto subway
* * *
Summer dawn--
subway carries empty shells
of the night
* * *
my summer
under the heat dome…
a rust-colored scarf
Having suffered through wildfires and heat waves in Canada, summer flowers have called it a day. Sophia Conway deadheaded her garden on Vancouver Island, British Columbia. The haikuist petro c.k. pulled weeds in Seattle, Washington. Tony Williams sharpened an ax in Glasgow, Scotland.
The withered rose--
A reminder of a forgotten
summer love
* * *
nodding off
outside the nursing home
dandelions
* * *
looking to the stars…
no life left
in the plum
Kiyoshi Fukuzawa accepted his fate in Tokyo. As a younger man, Mario Massimo Zontini used to wear bolder colors in Parma, Italy.
The colors gone
no one stops to say "pretty"
hydrangea
* * *
in full summer
the shadows are nuanced
by the heat
Vladislav Hristov caressed a romance novel in Plovdiv, Bulgaria.
afternoon haze
the softness of
a book's page
Awaiting a cool autumn breeze, Urszula Marciniak took pity on a rose mallow in Warsaw, Poland. Realizing its flowers only last for a day, Murasaki Sagano noted it's a prolific rebloomer. Arvinder Kaur commiserated in Chandigarh, India.
waiting...
rose petals fall one by one
onto the concrete
* * *
Rose mallows
the truth was brought to light
one day flowers
* * *
petal by petal
the rose falls
test reports
Relentless wildfires, extreme temperatures and the sight of cacti dying in the Sonoran Desert, Arizona, made John Daleiden compose this summer line that begins with a locally coined name for a dry monsoon season: nonsoon--only more heat in the next forecast
Sankara Jayanth Sudanagunta waited on guests in Hyderabad, India.
monsoon sun...
the sparrows taking their time
on the birdfeeder
Zontini nursed a drink all afternoon.
sidewalk cafe--
I wish the coffee in the cup
would last forever
Bailly knows what he will do today in Fargo, North Dakota. Shemer welcomed visitors. Kanematsu felt welcomed.
greeting
every day
an old friend
* * *
greeting all the guests
the lilac is always first
at the open door
* * *
Greeting me
small roadside poppies
like lost kids
Taking a rest from climbing a mountain pass through Tokaido in 1663, Matsuo Basho wrote these words as a parody of a Noh play from the 15th century: tsuki zo shirube konata e irase tabi no yado. Imagine how elegantly the master poet played the role of an innkeeper by reciting this hokku aloud while gesturing to an open door with a flourish of his hand to usher in a full moon.
the moon as your guide…
this way if you please, enter
our traveler's lodge
-------------------------------------------------------------------------------------------------------------
Enter the door to haiku at http://www.asahi.com/ajw/special/haiku/. The next issue of the Asahi Haikuist Network appears Sept. 29, in tandem with the full harvest moon. Readers are invited to send haiku inspired by Matsuo Basho's hokku: the moon as your guide… this way if you please, enter our traveler's lodge, on a postcard to David McMurray at the International University of Kagoshima, Sakanoue 8-34-1, Kagoshima, 891-0197, Japan, or e-mail to (mcmurray@fka.att.ne.jp).
* * *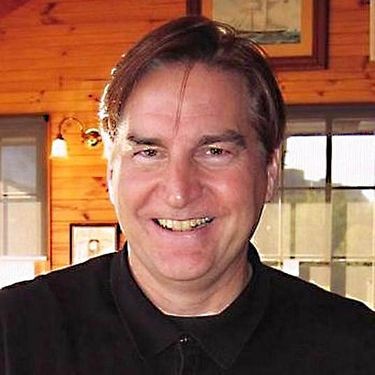 David McMurray has been writing the Asahi Haikuist Network column since April 1995, first for the Asahi Evening News. He is on the editorial board of the Red Moon Anthology of English-Language Haiku, columnist for the Haiku International Association, and is editor of Teaching Assistance, a column in The Language Teacher of the Japan Association for Language Teaching (JALT).
McMurray is professor of intercultural studies at The International University of Kagoshima where he lectures on international haiku. At the Graduate School he supervises students who research haiku. He is a correspondent school teacher of Haiku in English for the Asahi Culture Center in Tokyo.
McMurray judges haiku contests organized by The International University of Kagoshima, Ito En Oi Ocha, Asahi Culture Center, Matsuyama City, Polish Haiku Association, Ministry of Foreign Affairs, Seinan Jo Gakuin University, and Only One Tree.
McMurray's award-winning books include: "Teaching and Learning Haiku in English" (2022); "Only One Tree Haiku, Music & Metaphor" (2015); "Canada Project Collected Essays & Poems" Vols. 1-8 (2013); and "Haiku in English as a Japanese Language" (2003).