The 2019 Rugby World Cup stirred up excitement throughout Japan.
Kanagawa Prefecture, where the final took place, is portraying itself to the international community as a place brimming with "Vibrant INOCHI (Life)", with the basic concept "Vibrant Life Kanagawa".
What are the thoughts behind these words? Daisuke Ohata, who served as ambassador for the tournament, talks with Yuji Kuroiwa, governor of Kanagawa.
Applying a horizontal approach, not vertical to overcome the super-aging society
—— What is the background behind the creation of phrases such as "Vibrant INOCHI (Life) Kanagawa"?
Kuroiwa: Kanagawa will become the fastest super-aging prefecture within the country. In such circumstances, while medical treatment is important to maintain vibrant "INOCHI (Life)," we also need to integrate other elements such as food, agriculture, energy, environment, education and urban development united into a whole. However, on the national level, all of these elements are segmented vertically. To address this situation, Kanagawa prefecture has made a strong resolution to link all these elements and develop a comprehensive policy.
Ohata: Why did you adopt the Japanese word "INOCHI" rather than the English word "Life"?
Kuroiwa: This started with Kanagawa presenting a talk at the "High-level Political Forum" at the UN as the representative Japanese municipality. The topic was how to express "INOCHI KAGAYAKU" in English. We felt that the English word "LIFE" didn't convey the soft, warm, gentle image the Japanese word "INOCHI" has. To get our idea across, we prepared an illustration that depicted a single tree. With DIVERSITY at the root of the tree, words were written on the leaves, and this communicated "Vibrant INOCHI (Life)" as our ideal society. After the talk, people at the forum told us, "We agree that INOCHI is a word that will reach the world," giving us confidence that we had conveyed our idea.
Diversity is also an important concept to Japan's national rugby team.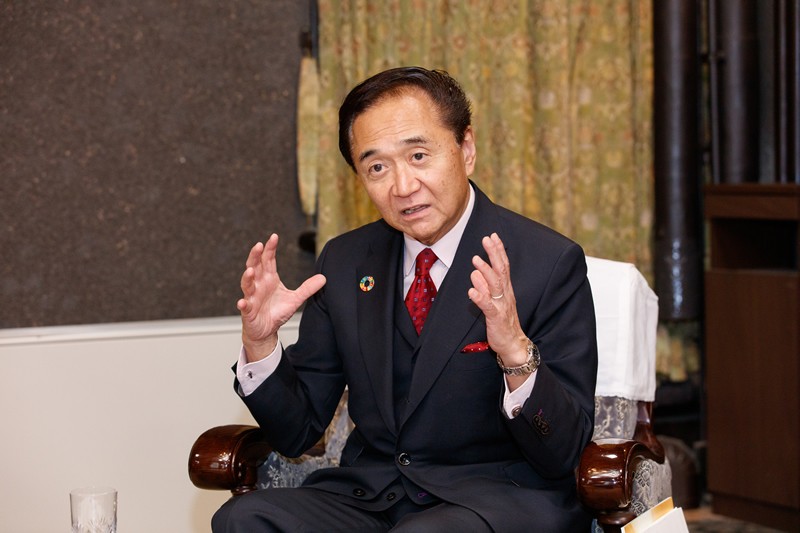 Leading the world with Japanese culture and values
Ohata: The fact that our team was multi-national was a factor, but the sport itself also takes diversity on board. While there are big strong players, there are also small players who are fast runners. There are players who throw themselves into the game wholeheartedly and those who keep a cool, clear head as they set up the play. The appeal of rugby lies in the fact that the players, each with their own individual personalities, can find their own place where they can shine. It is important that all the team members share the same values, understand their role among these values and give their best performance. This is also important in work and daily life. I believe that the fact rugby presented this in an easy-to-understand form contributed to the excitement of the games last year.
Kuroiwa: Certainly, the motto "ONE TEAM" perfectly symbolized the team's values.
Ohata: I believe Japan as a whole became "ONE TEAM" during the tournament. For example, After the match with New Zealand, the New Zealand team expressed their respect for their opponents with Japanese-style bow. To show sympathy for Japan, players from the Canadian and Namibian teams joined volunteering activities in areas hit by the typhoon that led to their matches being cancelled. I think that people from diverse backgrounds coming together as one through rugby made it possible to present the appeal of Japan to the world.
Kuroiwa: I hope that we can create a society in future that is open to even greater diversity. I also wish to bring Kanagawa prefecture together as ONE TEAM. We live in times when Japan has to actively send out more and more messages to the international community. The theme of the Expo 2025, Osaka, Kansai is "Designing Future Society for Our Lives." In conjunction with the Expo, Kanagawa prefecture will continue to send out its message of "INOCHI" as the keyword for overcoming the super-aging society and further expand vibrant INOCHI (Life) initiatives.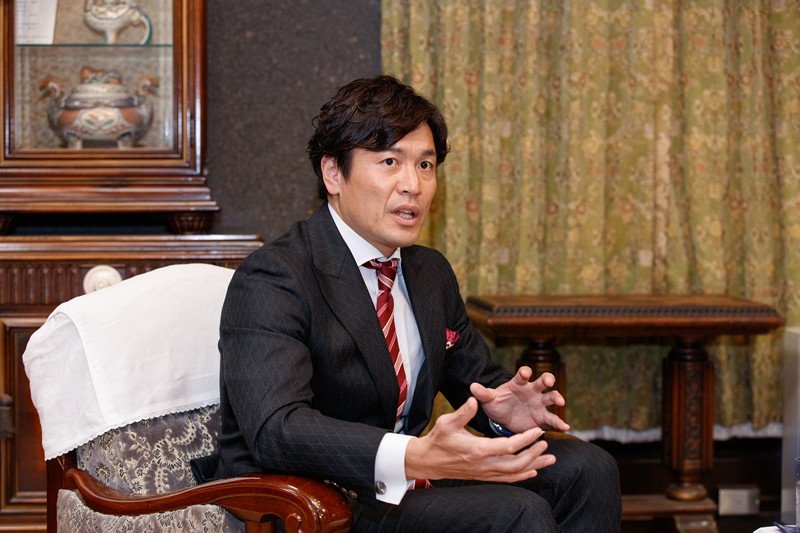 Vibrant "INOCHI (Life)"
Working towards realization of a sustainable healthy longevity society in which all members can enjoy a vibrant life.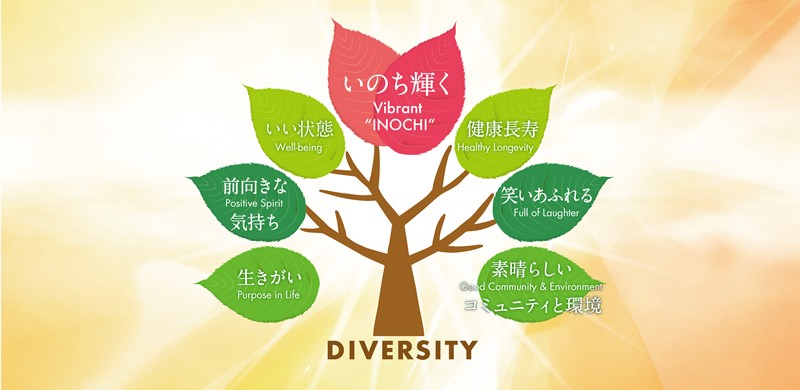 Concept incorporated into the image visual
Our goal is to realize a society brimming with "Vibrant INOCHI (Life)" in which senior citizens remain active, people support and help each other in a community full of laughter and smiles. In this society, pre-symptomatic care that matches the conditions of each and every one of its members is provided. To make this concept easier to imagine, we have created an illustration of a single tree with words expressing the nuances of "vibrant INOCHI (Life)" depicted on each of its leaves. DIVERSITY appears at the root of the tree while a nimbus shines from behind to express a soft, warm and gentle image of life.
Cooperation with United Nations Development Plan (UNDP)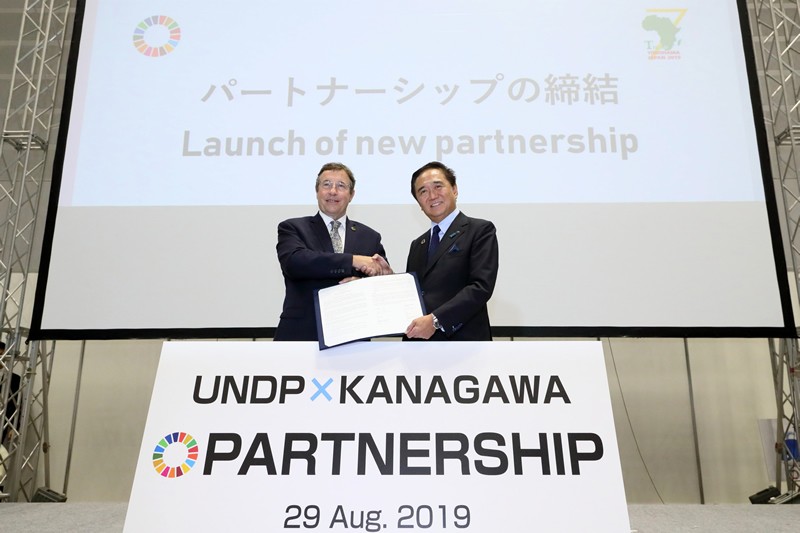 Promotion of International Expansion of SDGs
"SDGs" is now attracting attention worldwide and also being promoted in Japan by initiatives by both public and private sectors. As the only administrative division in Japan selected by the government as a SDGs-prioritized municipality, Kanagawa is energetically promoting SDGs through specific initiatives such as announcement of the "Kanagawa Zero Plastic Waste Declaration." Kanagawa also received an invitation to the United Nations in July, given a chance to deliver a speech at the United Nations Headquarters in New York. With this as a starting point, Kanagawa prefecture signed a prospectus of cooperation with the United Nations Development Plan (UNDP). As a SDGs-prioritized prefecture also attracting attention from the world, Kanagawa is working vigorously toward realization of "Vibrant INOCHI (Life) Kanagawa."
What is SDGs?
SDGs (Sustainable Development Goals): Adopted at a United Nations Summit in September 2015, SDGs is a series of development goals the aim of which is to realize a sustainable world. SDGs comprises 17 goals with the theme of total global inclusiveness.
Contact Information
For information on SDGs:
Policy Bureau, SDGs Promotion Division, Kanagawa Prefecture
Tel: 045 (285) 0908
Fax:045 (210) 8865
For other information:
Policy Bureau, Office of the Governor, Kanagawa Prefecture
Tel: 045 (210) 3662
Fax: 045 (210) 8834