Corporate Profile
Company Name
The Asahi Shimbun Company
Business
Newspaper / Digital media content; event and exhibition production; real estate enterprises
Established
January 25,1879
Representative
Shiro NAKAMURA, President and CEO
Corporate Philosophy
Thinking together and creating together
Locations
Tokyo Head Office
5-3-2, Tsukiji, Chuo Ward, Tokyo, 104-8011
Osaka Head Office
2-3-18, Nakanoshima, Kita Ward, Osaka, 530-8211
Seibu Head Office
1-1-1, Muromachi, Kokura-Kita Ward, Kita-Kyushu, 803-8586
Nagoya Head Office
1-3-3, Sakae, Naka Ward, Nagoya, 460-8488
Hokkaido Office
1-6, Kita-ichijo Nishi, Chuo Ward, Sapporo, 060-8602
Fukuoka Office
2-1-1, Hakata Eki-mae, Hakata Ward, Fukuoka, 812-8511
Domestic news bureaus
224 locations
Overseas news bureaus
33 locations
Capital
650 million yen
Sales
Nonconsolidated 188,198 million yen
Consolidated 272,473 million yen
(169th fiscal year; April 1, 2021 to March 31, 2022)
Employees

4,188

 (

as of April 2022

)
List of Directors
| | |
| --- | --- |
| Position | Name |
| President and CEO | Shiro NAKAMURA |
| Managing Director (Chief Print Media Business Officer / Representative of Tokyo Head Office) | Katsuhide KONISHI |
| Managing Director (Chief Strategy Officer / Corporate Group & Broadcasting Network Manager) | Takashi HORIE |
| Managing Director (Chief Content and Digital Policy Officer / Executive Editor) | Katsu TSUNODA |
| Board Director (Chief Governance and Human Resources Officer / Administration / Personnel / Compliance) | Jun OKAMOTO |
| Board Director (Chief Business Officer / Product Development / Events Strategy) | Reiko HORIKOSHI |
| Board Director (Chief Organization Reform Officer / Chief Regional Officer for West Japan / Representative of Osaka Head Office / Real Estate)  | Gaku SHINJI |
| Borad Director (Chief Customer Development and Data Strategy Officer / Publishing Business) | Tatsuya KANAYAMA |
| Board Director *Outside Director | Hiroshi SHINOZUKA |
| (Full-Time) Audit & Supervisory Board Member | Masayuki NAGAE |
| (Full-Time) Audit & Supervisory Board Member | Reiko YAMANOUE |
| Audit & Supervisory Board Member | Keiko KANEKO |
| Audit & Supervisory Board Member | Naoki ADACHI |
| Audit & Supervisory Board Member | Takashi NAWA |
| Managing Executive Director (Circulation Strategy) | Norio ODAGIRI |
| Managing Executive Director (Director of Finance Division) | Takashi SHIMIZU |
| Executive Director (Production) | Toshimitsu OGATA |
| Executive Director (Director of Human Resources Strategy Division / Work-Style Reform) | Kuninori OKAMURA |
| Executive Director (Education Business) | Keiko TAKADA |
| Executive Director (Director of Marketing Strategy Division) | Eiji YAMAMORI |
| Executive Director (Digital Business / Intellectual Property) | Kenichi TAKANO |
| Executive Director (Media Business) | Hisashi GODO |
| Executive Director (Corporate Planning and Media Strategic Planning / Adviser to the President) | Rei HASEGAWA |
| Executive Director (General Manager / Managing Editor of Tokyo Head Office) | Kiyoshi MIYATA |
| Executive Director (Public Affairs / CSR / Gender Equality Project) | Noriaki FUKUSHIMA |
(as of June 24, 2022)
Alliances with Overseas Media
  The Asahi Shimbun has forged alliances with The New York Times (U.S.) and the Dong-A Ilbo (South Korea). The Tokyo bureaus of both papers are located within the Asahi Shimbun's Tokyo head office, and our paper's New York and Seoul bureaus are located in the head offices of our partners. Popular columns and features appearing in The New York Times run in both the print and digital editions of the Asahi Shimbun. In 2015, in partnership with Shueisha Inc., we began publishing T JAPAN: The New York Times Style Magazine, the Japan edition of The New York Times' free premium magazine.
 The Japan edition of The HuffPost a news and blog opinion site from the U.S., was established in 2013. Today, the Asahi Shimbun Company collaborates with The HuffPost as a partner company. The HuffPost introduces diverse viewpoints from Japan and overseas with an emphasis on the social media uniting people around the world.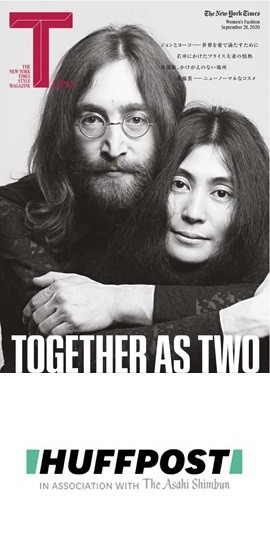 Participation in the UN Global Compact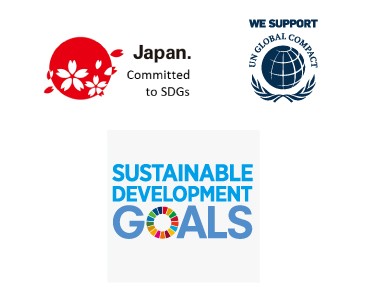 The UN Global Compact is an association of companies and groups that have pledged to uphold and act on the basis of ten principles established based on the Universal Declaration of Human Rights and other sources in the four areas of human rights, labor, the environment, and anti-corruption. The Asahi Shimbun Company began participating in 2004, the first Japanese media company to do so, and is actively involved in the Global Compact Network Japan (GCNJ), the Compact's domestic body. And we are a founding member of the SDG Media Compact. We are committed to fulfilling both our responsibilities as a media institution and our social responsibilities as a corporate citizen.

The Asahi Shimbun Company owns one jet and four helicopters.